PMD ICs
PMD Magellan® MC58113 Series ICs are programmable devices capable of providing high performance motion, speed and torque control.
They are suitable for brushless DC motors, step motors and brush DC motors, and are used for medical, scientific, robotic and automation applications.
MC58113 Series ICs are complete motion controllers that only require an external bridge circuit or amplifier to be functional. They are available with single axis and with integrated digital current loop.
This PMD ICs family is versatile and powerful, and ensures extremely smooth and quiet motor operation.
They are easy to program and to use thanks to Pro-Motion® development software and C-Motion® language.
MC58113 ICs are available in four types: MC51113 provides dedicated control of DC brush motors, MC53113 provides control of three-phase brushless DC motors, MC54113 provides control of two stepper motors, and MC58113 it can be selected via software to provide control of any of these types of motors.
Features
Single axis, single IC
Brushless DC, DC Brush, and step motor control
Position, velocity, and torque control
1.5 axes (primary and auxiliary encoder) control
Advanced PID filter with velocity and acceleration feedforward
S-curve, trapezoidal, velocity contouring, and electronic gearing profiles
SPI (Serial Peripheral Interface), serial RS232/485, and CANbus communications
High performance current control of each motor phase
High/Low switching amplifier control with programmable deadtime and charge pump refresh
Velocity, position and acceleration changes on-the-fly
Programmable position loop time from 50 μsec to 1.1 sec
Overcurrent, over/undervoltage and overtemperature detect
Directional limit switch, index, and home inputs
Axis settled indicator, tracking window and automatic motion error detection
General-purpose analog input
FOC (field oriented control)
Incremental encoder quadrature input (up to 25 Mcounts/sec)
Synch pin feature allows multiple axes to be synchronized to >1 μsec
Execution of user code at up to 418 MIPS
Compact 100-pin TQFP package
Internal motion trace NVRAM for performance optimization
Programmable dual biquad filters
Programmable acceleration and deceleration values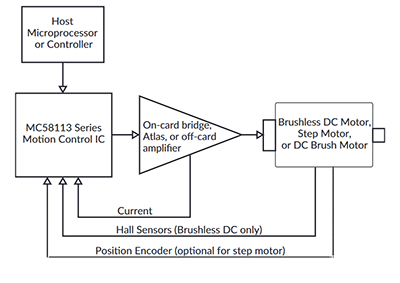 For all the technical details and further information download the product sheet.