RARE EARTHS
Rare earths are a group of 17 chemical elements of the periodic table considered strategic material for the production of permanent magnets used in many industrial sectors.
In particular, sintered neodymium magnets (NdFeB) are the most popular on the market.
The alternative magnetic materials available can be samarium-cobalt, compressed plasto-neodymium and injected plasto-neodymium (bonded and injection molding), also available on ferrite base, and magnetic materials in aluminum-nickel-cobalt (AlNiCo).
At the following link you can visit Garnet China website, our Chinese branch office based in Ningbo: Garnet China.
LATEST UPDATES
Raw materials prices are slightly declining but, on the other hand, in this period the Euro has strongly weakened against other currencies (especially against USD), slowing the price curve descent of finished magnets.
Regarding transport, the situation still remains particularly problematic; although carriers continue to implement ad hoc changes to ships routes and ports of call, choosing alternative routes (in order to keep faith with departure program), ports remain congested, causing repeated delays in goods delivery. The criticality of sea transport is expected to persist in medium to long term.
The situation is different for air transport, where, due to reduced oil stocks, fuel prices continue to rise, generating ever higher tariffs, with signs of softening only on some commercial routes.
In consideration of raw materials probable increases after summer break and the persistence of critical transport situation, we recommend to plan magnets orders as early as the end of 2023 in order to reserve production and not risk sudden increases and delays in deliveries.
Our Sales Department remains at your complete disposal to help you plan your next magnet purchases.
Below is showed the main raw materials update prices used for the production of rare earth magnets. The cost of permanent magnets as a finished product is inevitably influenced by the trend in the price of raw materials, indicated in RMB / Ton in the following graphs.
Praseodynium – Neodymium Alloy: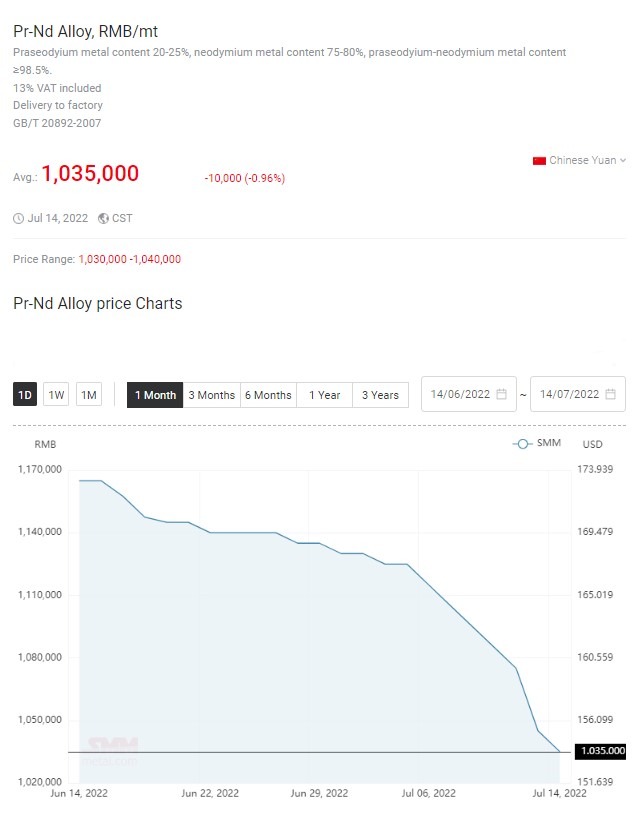 Dysprosium – Iron Alloy:
Cobalt: